by Elisabet Raquel – @elisabet.raquel
(Traduccion en Español al final de este articúlo)
#Cacerolazo

Image from Chilean rapper Ana Tijoux's music video to the song, "#Cacerolazo".
There have been #cacerolazos since the '60s in Latin America when the people wanted a change in their government and society. People grab their cacerolas (aka pot & pans) and take to the streets to make their voices heard by banging loudly on them. Despite their short term wins, there has been a history of oppression of popular protests by government forces. One such example of this is Chile's September 11, when a state building was bombed and a U.S. backed dictatorship was put in place – the other 9/11 that many people are not aware of. This was 1973, Chile while the country was under a democratically elected socialist president Salvador Allende who seemed to not be able to undo the crisis that occurred when the elite class convoluted to create a scarcity of resources and provoke civil unrest. What ensued next was a dictatorship under Agustín Pinochet that lasted until 1990 and a series of state terrorism that had military and police in the streets kidnapping, torturing, murdering, and disappearing thousands and thousands of people. During this dictatorship, people never stopped protesting, but the cacerolazos became silenced and many people became frightened to take action. 

However, the #cacerolazos have returned to Chile, though so has the state terrorism. As of October 19th, 2019, President Sebastian Piñera announced a state of emergency with a curfew that started in Santiago and now has spread all throughout the country. What started in massive protests against an increase in the metro fare has ended in full-on state terrorism and Chileans are reliving the realities they had under the dictatorship of Pinochet. Military and police are back on the streets in their tanks and people are at their mercy – being attacked, kidnapped, murdered, and tortured. As of Monday October 28th, the same day that the United Nations human rights commission would come to investigate human rights violations, Piñera has called an end to the state of emergency, ridding of the curfew.  Despite this, the Chilean people are not giving up their fight for a better future, they are still out in the street protesting and creating a #Cacerolazo en Chile.
#LaTeleMiente
"The TV Lies" Photo Source
I'm getting this information from my friends, family, and community organizations back in Chile because #LaTeleMiente and cannot be trusted. Of course, the media is not showing the truth of what is going on, but the Chilean youth are using the power of social media to record and share everything in hopes that the world pays some attention. Each day, I check in with all these people spread throughout the country that I built relationships with when I studied abroad there last year and met my family for the first time. One day I was watching friends and family share videos of massive protests in the metro stations and the next I was watching videos of police and military storming the streets. Every day I'm seeing videos of people being shot, taken from their homes, murdered and more. I feel the social responsibility to not traumatize people with these images, so I try not to share them on my social media, but I do want everyone to know what is happening. You can find on my story highlights everything that I've been sharing on Instagram @elisabet.raquel under the highlight called CHILE.
#ChileDespertó
"Chile has Awoken" Photo Source
In Chile, the cost of living is high, the quality of life is low, the education system is privatized and health care is a joke. Not to mention that there are still so many people still missing from the last dictatorship, the state treats the indigenous Mapuche people as "domestic terrorists", and Black and Brown immigrants as a plague. The massive protest to which Piñera called the state of emergency was just the tipping point of years of abuse from the state since the dictatorship and the implementation of a neoliberal economic system introduced to Chile in 1985 by the Chicago Boys, Chilean right-wing economists who studied in the U.S. Since then, Chile has been under a neoliberal transformation which has left the cost of living constantly rising while the Chilean people continue to make less than what is able to meet the expected standards of that livelihood. The minimum wage is between $400-$500 and the cost of living in Santiago is a little less than $1,000 a month. When I was living in Nuñoa, Santiago, Chile, I paid $500 for rent for a room in an apartment and the metro was more than $1 each way. I found the cost of living comparable to that of the U.S which is suffocating for people who are not living off of a U.S salary. With this increase in fares, the people said,  "ya po" and #ChileDespertó, rising in protest.
#ViolaciónesDeDerechosHumanos
"Hopefully the [loss of] lives of the people hurt you as much [the loss of your] supermarkets". Photo Source uknown, viral image circulating Facebook and Instagram.
During metro fare the protest, there was property damage done and there are some people who are taking what they can from chain market stores. In these saqueos, stores have been emptied out completely and there has been more attention paid to this looting rather than the human rights violations occurring by the hands of the government. Many Chileans themselves (including some of my family) blame the violence and oppression they are facing on "looters" and believe that the Chilean military and police were sent out on the streets to set order, but it's all a deepening plot of violence. Cities are in chaos due to the state terrorism, everyone is frightened, and if people are caught in these saqueos, they are taken by the military and police, left at the will of their mercy. One woman in a video I saw claimed that she was caught up in a saqueo and was taken away to a local police department where she and other people, including children, women, elders, and men, were forced to strip naked while they were hosed down and beaten. Some people, including come Chileans themselves, say that people doing saqueos deserve this maltreatment. However, what is occurring is pure violation of human rights in the name of protecting large corporate interests.
#NoEstamosEnGuerra
"This isn't a war. We have pots and you all have submachine guns."
Photo Source: Mon Laferte
There are people protesting for their livelihood all throughout the country and military and police continuously attack pacific protesters with tear gas, rubber bullets, actual bullets, batons, and even their vehicles. On Tuesday, October 22nd, the military and police shot at a group of protesters.  My cousin was in the group that was shot at and he received a bullet in the leg. They are also barging into peoples' homes, taking them away in public, and throwing bodies out of moving vehicles at night, leaving them in the street. And the president? He hasn't addressed the issue of the brutality being faced by the Chilean people at all. He claims that the Chilean government is at war with a very dangerous enemy – its own citizens, who are armless by the way. The Chilean people are not armed with weapons, but merely with pots and pans and the will to fight for a better future. What the Chilean youth is sharing through these videos don't lie – they are raw proof of what is going on and that this is being shared publicly is revolutionary. However, many of these videos continue to be taken down or censored. The horrors of what is happening are being openly shared and I refuse to let this happen in silence. 
#PresenteHoyYSiempre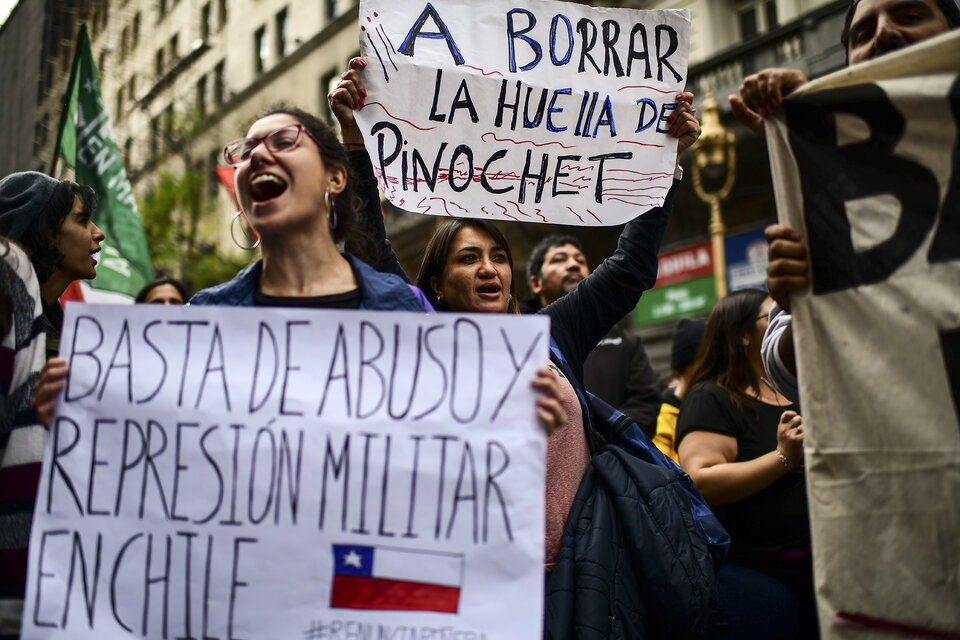 "Stop the abuse and military represion in Chile" Photo Source
This time last year, I was in Santiago during my second semester at La Pontifical Universidad Católica de Chile taking courses on Trauma and Political Violence, Migration and Human Rights, Chilean History and Culture, and more. I visited the Museo de la Memoria y Derechos Humanos and the secret torture centers like Estadio Nacional and Villa Grimaldi. I learned all about the oppression the country endured during the time of the dictatorship, finally learned the history of where I came from, and why my grandparents left.  Never did it cross my mind that this could have been my one and only opportunity ever to visit my country of origin and learn the truth. Now, I'm completely shattered because it very well could be. I feel that it is my duty to share this information and call an end to the violent oppression of my people by its government. This is after all, why my grandmother left in the first place, right? Her sacrifices granted me more freedom and with that comes a greater responsibility to fight for justice for all. Mi Chile lindo, estoy contigo #PresenteHoyYSiempre.
"What happens if I forget?". Photo Source: @elisabet.raquel at the Museo de Memoria y Derechos Humanos in Santiago, Chile 2018
____________________________________________________________________________________________
#ChileDespertó y No Nos Podemos Quedar Dormidos
Escrito por Elisabet Raquel – @elisabet.raquel
Traducido por Jaime Guzmán Sánchez – @jgsanchez95
#Cacerolazo
Foto del video de música de la canción #Cacerolazo por Ana Tijoux
Los #cacerolazos han tenido una presencia en América Latina desde los años sesenta. Son una forma de protesta cuando el pueblo quiere cambio en el gobierno y la sociedad. La gente agarra sus cacerolas y se las llevan a la calle, golpeando las con cucharas para que sean escuchados. A pesar de sus victorias a corto plazo, ha habido una historia de opresión de las manifestaciones por parte de las fuerzas gubernamentales. Un ejemplo es el 11 de septiembre de 1973, cuando el Palacio de la Moneda — sede de la presidencia de la República de Chile — fue bombardeado, y la dictadura de Pinochet — apoyada por el gobierno de Estados Unidos — fue instalada. Este es el otro 9/11 que mucha gente no conoce. Ocurrió cuando Chile tenía un gobierno socialista bajo el presidente Salvador Allende que no podía deshacer la crisis económica  que aconteció cuando la clase élite se involucró para crear una escasez de recursos y provocar disturbios civiles. Lo que siguió después fue una dictadura que duró hasta 1990 que puso militares y policías en las calles. Este terrorismo patrocinado por el estado secuestró, torturó, asesinó, y desapareció a miles de personas. Durante la dictadura, la gente nunca dejó de protestar, pero los cacerolazos sí se silenciaron por temor de las represalias del gobierno.
En Chile ha vuelto el terrorismo del estado pero también el #cacerolazo. A partir del 19 de octubre de 2019, el presidente Sebastián Piñera declaró un estado de emergencia toque de queda que comenzó en Santiago y luego se extendió por todo el país. Lo que empezó como una protesta masiva contra el incremento de la tarifa del metro ha terminado como un tipo de terrorismo del estado y los chilenos están reviviendo las realidades que en una vez vivieron bajo la dictadura de Pinochet. El ejército y las policías están de regreso en las calles con sus tanques. El pueblo está a su merced — son atacados, secuestrados, asesinados y torturados. Desde el lunes, 28 de octubre — mismo día en que la comisión de los derechos humanos de las Naciones Unidas empezó una investigación sobre violaciones a los derechos humanos durante las manifestaciones — Piñera quitó la declaración de estado de emergencia y toque de queda.  Sin embargo, el terrorismo continúa y el pueblo chileno no para la lucha por un mejo futuro — sigue en las calles manifestándose y haciendo un #cacerolazo.
#LaTeleMiente
"La TV miente" Credito por la foto
Recibo esta información de mis amigos, familiares y organizaciones comunitarias de Chile porque #LaTeleMiente y no se puede confiar en los medios de comunicación. Por supuesto que los medios no están mostrando la verdad de lo que está sucediendo, pero los jóvenes chilenos están utilizando el poder de las redes sociales para grabar y compartir todo, con la esperanza de que el mundo preste atención. Cada día, me comunico con todas estas personas repartidas por todo el país con las que construí relaciones cuando estudié allí el año pasado y conocí mi familia por primera vez durante esta estadía. Un día estaba viendo a amigos y familiares compartir videos de manifestaciones en las estaciones de metro y después estaba viendo videos de policías y militares irrumpiendo las calles. Todos los días veo videos de personas que fueron disparadas, sacadas de sus hogares, asesinadas y más. Siento la responsabilidad social de no traumatizar a las personas con estas imágenes, así que trato de no compartirlas en mis redes sociales, pero quiero que todos sepan lo que está sucediendo. Puedes encontrar todo lo que he estado viendo y compartiendo en m perfil de Instagram @elisabet.raquel bajo el "Highlight" que se llama "CHILE".
#ChileDespertó
"Chile Despertó" Credito de la foto
En Chile, el costo de vida es muy alto, la calidad de vida es baja, el sistema educativo está privatizado y el sistema de salud es una broma. Sin mencionar que todavía hay personas que aún están desaparecidas desde la última dictadura, a los indígenas Mapuche se les caracteriza como "terroristas domésticos" y a los inmigrantes con ascendencia africana o con tez morena son tratados como una plaga. Las manifestaciones que provocó a Piñera en declarar el estado de emergencia fue el punto de inflexión de años de abuso por parte del estado, desde la dictadura. En 1985, se implementó un sistema económico neoliberal por los Chicago Boys, economistas chilenos de perspectiva a la derecha que estudiaron en los Estados Unidos. Desde entonces, Chile ha estado bajo una transformación neoliberal que ha dejado el costo de vida en constante aumento, mientras que el pueblo chileno continúa ganando menos de lo requerido para poder sobrevivir. El salario mínimo es entre cuatrocientos y quinientos dólares estadounidenses y el costo de vivir es un poco menos de mil dólares por mes. Cuando yo vivía en Ñuñoa, Santiago, Chile, pagaba quinientos dólares por el alquiler de una habitación en un departamento y el metro costaba más de un dólar por trayecto. Encontré que el costo de vida es comparable al de los Estados Unidos, que es sofocante para las personas que no viven de un salario estadounidense. Con este aumento en las tarifas, el pueblo dijo "ya po" y #ChileDespertó, levantándose en protesta.
#ViolaciónesDeDerechosHumanos
"Ojalá [la perdida de] vidas del pueblo te dolieran tanto como [la perdida de] tus supermercados".
Credito de la foto desconocido, pero se hizo viral en Facebook and Instagram.
Durante las manifestaciones, hubo daños propietarios y algunas personas tomaron lo que pudieron de los grandes supermercados. Muchas tiendas han sido vaciadas y los medios han prestado más atención a estos actos que a las violaciones flagrantes de derechos humanos a manos del gobierno. Muchos chilenos (incluyendo algunos miembros de mi familia), culpan a las saqueadores por la violencia y la opresión que enfrentan y creen que el ejército y la policía chilena fue enviada a las calles para establecer el orden, pero todo es un complot cada vez más profundo de violencia. Las ciudades están en caos por el terrorismo del estado, todos están asustados y las tiendas de comestibles se están vaciando. Si la gente es atrapada en estos saqueos, los militares y la policía se los llevan, dejados a la voluntad de su merced. Una mujer en un video que vi, afirmó que la atraparon en un saqueo y la llevaron a un departamento de policía local donde ella y otras personas, incluyendo niños, mujeres, ancianos y hombres, se vieron obligados a desnudarse mientras fueron lavados a manguerasos y golpes. Algunos chilenos, dicen que las personas que participan en estos saqueos merecen ser maltratados. Estos actos son una violación de los derechos humanos en nombre de la protección de los intereses corporativos.
#NoEstamosEnGuerra
"No estamos en guerra. Tenemos ollas y ustedes metralletas."  Credito de la foto
Hay personas que se manifiestan por su sustento en todo el país, sín embargo el ejército y la policía atacan continuamente a los manifestantes con gases lacrimógenos, balas de goma, balas reales, porras e incluso sus vehículos. El martes, 22 de octubre, el ejército en conjunto con la policía dispararon en contra de un grupo de manifestantes. Mi primo formaba parte de ese grupo y recibió un disparo de perdigones en la pierna. También están irrumpiendo en las casas de las personas, se los llevan sin importar el lugar o la hora y arrojan los cuerpos de los vehículos por la noche, dejándolos en la calle. ¿Y el presidente? Piñera no ha abordado en absoluto el tema de la brutalidad que enfrenta el pueblo chileno. Afirma que el gobierno chileno está en una guerra con un enemigo muy peligroso — sus propios ciudadanos — que por cierto son inofensivos. El pueblo chileno no está armado con armas, sino con cacerolas, sartenes y la voluntad de luchar por un mejor futuro. Lo que la juventud chilena está compartiendo a través de estos videos no miente — son prueba de lo que está sucediendo y el acto de compartir esto públicamente es revolucionario. Sin embargo, muchos de estos videos están siendo eliminados y censurados. Los horrores de lo que está sucediendo se está compartiendo públicamente y me niego a permitir que esto suceda en silencio.
#PresenteHoyYSiempre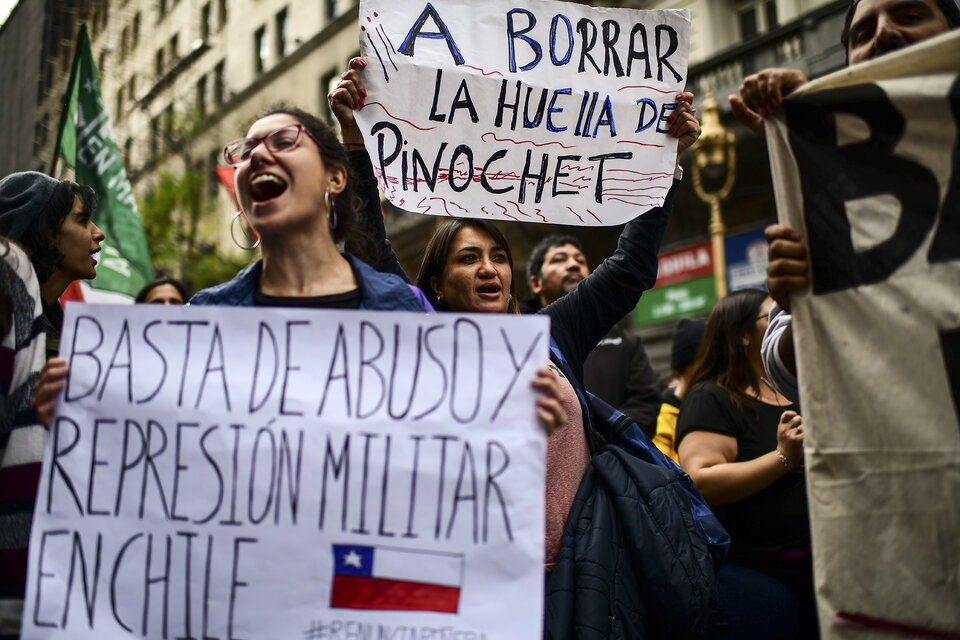 "Basta de abuso y represión militar en Chile." Credito de la foto
El año pasado estuve en Santiago, durante mi segundo semestre en la Pontificia Universidad Católica de Chile donde estudié varios temas como Trauma y Violencia Política, Migraciones y Derechos Humanos, Historia y Cultura de Chile, y más. Visité el Museo de la Memoria y Derechos Humanos y los centros secretos de tortura como Estadio Nacional y Villa Grimaldi. Aprendí todo sobre la opresión que sufrió el país durante la época de la dictadura, finalmente aprendí la historia de dónde venía y por qué se fueron mis abuelos. No se me había ocurrido que esto podría haber sido mi única oportunidad para visitar a mi país de origen y aprender la verdad. Ahora estoy completamente destrozada porque podría ser la última vez en visitar. Siento que es mi deber compartir esta información y poner fin a la opresión violenta de mi pueblo por parte de su gobierno. Esto es, después de todo, la razón por qué mi abuela se fue hace tanto tiempo, ¿cierto? Sus sacrificios me ha otorgado más libertad y con eso ha surgido una mayor responsabilidad de luchar por la justicia. Mi Chile lindo, estoy contigo #PresenteHoyYSiempre.
"¿Que pasa si olvido?"
Fuente de la foto: @elisabet.raquel en el Museo de Memoria y
Derechos Humanos en Santiago, Chile 2018